Let us help you with writing an annotated bibliography APA
The best recipe to make it by yourself or with experts' help.
We help students since 2012
Rush turnarounds, from 3 hours
We can research relevant sources or use yours
APA Format Annotated Bibliography – How to Make One Properly
An annotated bibliography APA is a type of writing that should be composed carefully, as it differs from other styles due to some nuances. However, it's not as hard as it may look. The process becomes less complicated if you have a proper guideline explaining everything you should know about the task. To discover what is an annotated bibliography APA and its types, what things to remember, and what writing mistakes you should avoid, keep reading. There are some essential things you can't miss.
Overview and Main Purposes
An annotated bibliography is a list of sources you used for research organized to the specific criteria. It differs from a straightforward biography since each reference called 'citation' has an annotation. Depending on what assignment you have, an APA citation annotated bibliography could have different purposes:
Provides a review of sources on a particular topic
Helps to formulate a thesis on a subject
Help in performing research
Showcase the major information sources available on a topic
Describe things other researchers found interesting
The Structure of APA Annotated Bibliography and Core Elements
An opinion that the annotation is just a brief summary of the publication, book, or something else is wrong. An annotation should provide enough information to make the reader decide whether to read the full text or not. You simply show the reader if the topic is useful, and if so, why?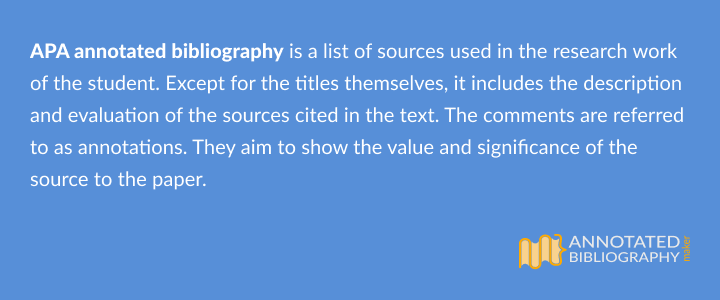 The structure of writing an annotated bibliography APA format is quite simple. This is a list of citations and annotations that belong to them formatted in the required style.
Each citation provides a detailed description of the source's characteristics, including:
Name of the author
Name of the work
Publication date
Link to the source in case it's a web resource
An annotation in the APA annotated bibliography is a description of the content of the source and explains how it will be used for your needs. The way you describe the source and the factors that affect the choice of the source may vary and depend on the type of writing annotations. Still, it's what we going to discuss next.
Annotated Bibliography APA Format Example & Tips
Before we look at the writing requirements and features in detail, we suggest you familiarize yourself with the ready-made example and keep it with you, visualizing the upcoming tips and recommendations. Don't be afraid because APA is just a formatting style that stands out with core features, and writing annotated bibliography APA format example based on these rules will help you succeed.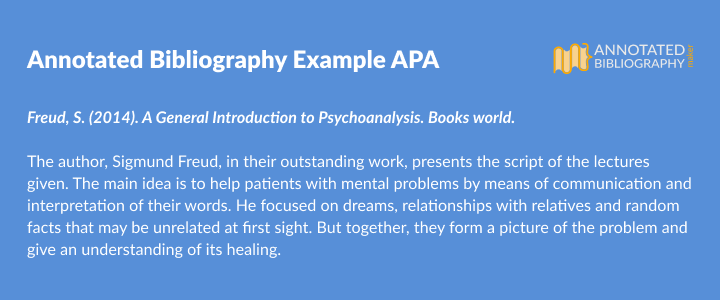 APA Formatting Rules
The annotated bibliography format APA rules are very detailed, and every writing detail depends on the final result. The work should always have double-spaced clear font like Times New Roman. Next – margins. They should be 1 inch on every side. Every page number is placed on the right side, ½ inch down the page's top. The annotation should be intended 5 spaces, written in one set font.
This is an annotated bibliography APA style only when all the rules are followed and the whole text is written in one font. Professors are accustomed to the specific format, so they will spot the smallest change in your writing and consider it as an issue.
It may look complicated for the first time, so consider having an example to understand the sequence. Now, let's discover more about annotation for your APA annotated bibliography.
Regarding the Length of an Annotated Bibliography
Regarding the APA format annotated bibliography requirements to length, it demands 100-200 words for a single 'citation-annotation' pair.
The overall scope of work and size of annotations may vary depending on the supervisor's requirements (if the annotated bibliography APA is set as an independent writing task) or the volume of the research paper (if the work is part of a bigger project like a dissertation). On average, the individual writing task is 500-2500 words (5-10 sources), but this may vary depending on the number of sources.
Writing an Annotated Bibliography APA With Specific Annotations Type
There are two types of annotations for sources annotated – descriptive and analytical. So before you will seek instructions on how to write an annotated bibliography APA, specify what types of annotations you're required. It's also critical to consider when you decide to ask someone to write my annotated bibliography for me to gain the best possible outcome from an expert's work.
A descriptive or informative annotated bibliography is aimed to describe or summarize a source like an abstract. It shows why the source may help research a particular topic or question and its distinctive features. The informative APA annotated bibliography also describes the author's core arguments without evaluation.
An analytical or critical annotation has another goal. It is set to analyze what is being said, examining the strengths and weaknesses of the presented information. Such annotations describe the applicability of the conclusions author provides to the conducted research. Moreover, writing a annotated bibliography APA with analytical annotations also is the most common assignment during a college-level course.
Some Tips and Ideas on How to Write an Annotated Bibliography APA
Now it's time to compose your own list of annotated sources. First, you should choose the sources properly. To do that, conduct research and locate records of the materials related to your topic. After that, review the most actual and relevant ones and choose those that provide a wide perspective on your topic. Depending on what type of annotated bibliography APA you write, you should consider something or even everything from the following list with criteria regarding source selection:
The purpose of the work
A summary of the content of the work
Information about the author(s)
The type of audience the work is written for
The relevance of the work to the topic
Additional special features
Research methodology
The strong and the weak points of the work
When writing annotations in APA annotated bibliography format, consider the citation always goes first, and the annotation always goes second. Arrange them alphabetically or chronologically – clarify this point with your instructor to specify their requirements.
Need Help Writing a Annotated Bibliography APA? Get Ours Right Now!
Having all the instructions and tips about a specific type of writing is good, but sometimes it may not be enough to do the task themselves. Seeking relevant sources and checking the information is a tough task, especially if you don't have time or feel a lack of skills to do it quality And that's where our professional writing services come to your aid!
Our experienced writers can handle all types this academic assignment, working with all formatting styles. So even if you have the custom one, don't worry. Considering all the instructions, writing experts know well how to seek reliable sources and critically analyze them to make well-composed annotations. Plus, be sure your APA style annotated bibliography will be delivered on time or before the deadline, even if you have just 1 hour.
Place your order right now to receive a perfectly composed annotated bibliography in a flash!