As you are listing down the sources that you used in the process of carrying out research on a particular style, they must conform to a particular style of citation. One such style is Vancouver citation style. The referencing style is organized such that it is numbered and it is commonly made use of in fields of medicine and science. It is the preferred referencing style for most Faculty of Medicine, Dentistry as well as Health Sciences Courses.
The citation style follows a set of rules that were decided on and established by the International Committee of Medical journal Editors that is currently maintained by the U. S. National Library of Medicine. It is based on Citing medicine: The NLM style guide for authors, editors and publishers and AMA manual of style: A guide for authors and editors.
Here you will find the info on how to make annotated bibliography APA format in the best way!
Our bibliography generator comes in handy since it will help you properly credit the information that you use. The tool is automatic and it is very easy and straight-forward to use. Our process of citing and referencing in Vancouver style is quite fast and efficient.
How to Write in Vancouver Style on Your Own
There are a couple of guidelines that could come in handy and could help you write a perfect bibliography in Vancouver style. Using our Vancouver bibliography maker spares you of the hustle of having to conform to them since it does that on your behalf. Here are some of those helpful tips:
Make sure that the references appear in numerical order and in the same order in which they are listed in the text in context. The reference list always appears at the end of the body of work.
The reference list should be on a new page altogether and the heading at the top of the page should be 'References'.
The reference list should be limited to only those references you have made citations from and not any other. All the references should be included. You should give the reference even when author's name is stated in the sentence.
The numbering in the reference list should be done using Arabic numerals. The numerals are put in brackets behind the reference.
Make sure to abbreviate journal titles in the style used in the NLM catalog.
Make sure you give a credible information. The reference details you have put down should match the actual source in case an arbitrary check is made. This provides assurance that you have read a source before you cite it.
In the case where you refer to a source more than once, you should use the same number you used the first time you referred to that particular source.
Stick to the same referencing style across the document. Do not combine Vancouver citation style with any other reference style.
Expert Advice on How to Write a Bibliography in Vancouver Citation Style
We offer you help with our Vancouver bibliography generator and any format, including NLM citation style. There are some few tips from our experts who have worked on bibliographies for a very long time. The guidelines are stated below and they are very specific since they only apply to this particular citation style.
Textual Citations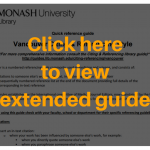 A superscript number should be inserted in the text at the point where you refer to your source of citation. A consecutive number is allocated to each source as it is referred for the first time. This particular number becomes a unique identifier of that source so that it is reusable each time that particular reference is cited in the text.
You should make use of superscript numerals outside periods and commas and inside coons and semicolons. When more than 2 references are cited at a given place in the manuscript, you should use hyphens to join the first and last numbers of a closed series. Make use of commas without space too separate other parts of a multiple citation.
How We Can Help Using Our Vancouver Bibliography Generator
Our Vancouver bibliography generator is the best when it comes to generating a perfect bibliography in Vancouver citation style. It is quite and also very effective and it comes up with the bibliography in a very short time and then gets the output back to you immediately. It is present in good form and it is free of all errors and flaws since it has been proofread enough.
For the best services in generating a flawless bibliography in this particular citation style, reach us and try out the services of our Vancouver bibliography maker!