Descriptive bibliography is bibliography that closely examines the physical nature of the book in context. It is the systematic description of books as physical objects, either a material or physical artifact. What is studied in descriptive bibliography entails processes such as printing of the book and all physical features of a book that yield evidence establishing a book's history and transmission.
Descriptive annotated bibliography lies in the preliminary phase of bibliographic description and provides the vocabulary, principles and techniques of analysis that descriptive bibliographers apply and on which they base their descriptive practice. The description in context typically concludes with relevant details of the book's authorship, publication and distribution. Below also you can find an example of a bibliography.
How to Write a Descriptive Bibliography on Your Own
There are a few guidelines that you need to follow in order to come up with a perfect descriptive bibliography. This particular type of bibliography follows specific conventions associated classification in its description.
Below are some important features and guidelines that you should follow while writing your own annotated bibliography descriptive:
Titles and title pages are transcribed in a quasi-facsimile and classification.
Illustration, typeface, binding paper as well as all the other physical elements related to identifying a book follow formulaic conventions.
Binding. A brief description of the binding techniques is explained and this mostly applies for books printed after 1800. This is especially important in the case where the literary work in context is bound by the publisher before sale to the public.
Title page transcription. A transcription of the title page which includes all the rule lines as well as ornaments.
Content. A list of the contents which will be grouped by section in the book.
Paper. A description of the physical properties of the paper which includes the production process, an account of chain-line measurements as well as a description of watermarks if they are present.
Illustrations and maps. This includes a description of the illustrations found in the book which includes printing process such as woodblock and intaglio, measurements as well as location in the texts. Illustration and maps are usually drawings or stamps that are within the text block.
Presswork. Miscellaneous details are gleaned from the text about its production.
Provenance. Provenance marks are the evidence marks of previous owners. Most of them are therefore signatures of past owners, or even stamps or stickers. They are found at the very beginning of the text block such as on the title page.
Copies examined. An enumeration of the copies is examined including those copies' location and this includes matching what copies belong to which library or collector.
Questions answered in this type of bibliography include how the book is put together, types and places of illustration, letterpress contents, plates, maps, inserted illustrative matter, typography, binding work, as well as type and quality of paper since in this case you are viewing the book as an object.
Information on regulatory circumstances such as licenses awarded and privileges enjoyed is also included.
Awesome analytical bibliography example is here!
Proficient Advice on How to Write a Descriptive Bibliography on Your Own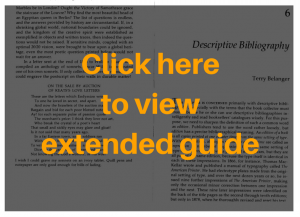 Our specialists have worked with various types of bibliographies, so you can trust them to come up with helpful and informative advice or sample descriptive annotated bibliography. According to them, it is advisable to first understand what a descriptive bibliography is before embarking on writing it down. This will provide a clear distinction from other similar types of bibliographies. Our descriptive bibliography example serves as perfect reference when coming up with your own. Of course, you always do it by yourself, and in this case we can provide you services of proofreading and editing.
How We Can Help You Using Our Descriptive Bibliography Example
You could use our descriptive bibliography example as a perfect reference. In case you want us to assist you in using our examples you can reach our team and they could write an example according to your specifications. Our team is experienced and highly skilled and therefore we make sure to provide feedback as soon as possible when you reach us. The example will not misguide you since they are free of all errors and they have been proofread a couple of times before being presented to you.
Do not hesitate to avail our superior help if you need our assistance in writing your descriptive bibliography example!