What Is an APA Annotated Bibliography?
Instructors nowadays require students to submit an annotated bibliography, APA or otherwise to ensure that students are doing their part in the research process.  While most consider writing an APA annotated bibliography as a waste of time, it is not the case. An APA annotated bibliography is actually a bibliography where you include the list of the sources you will use in your paper. Each source has an annotation whereby you evaluate, discuss, and describe its relevance in your research.

APA Bibliography Writing Features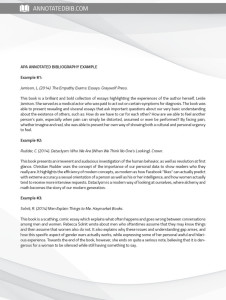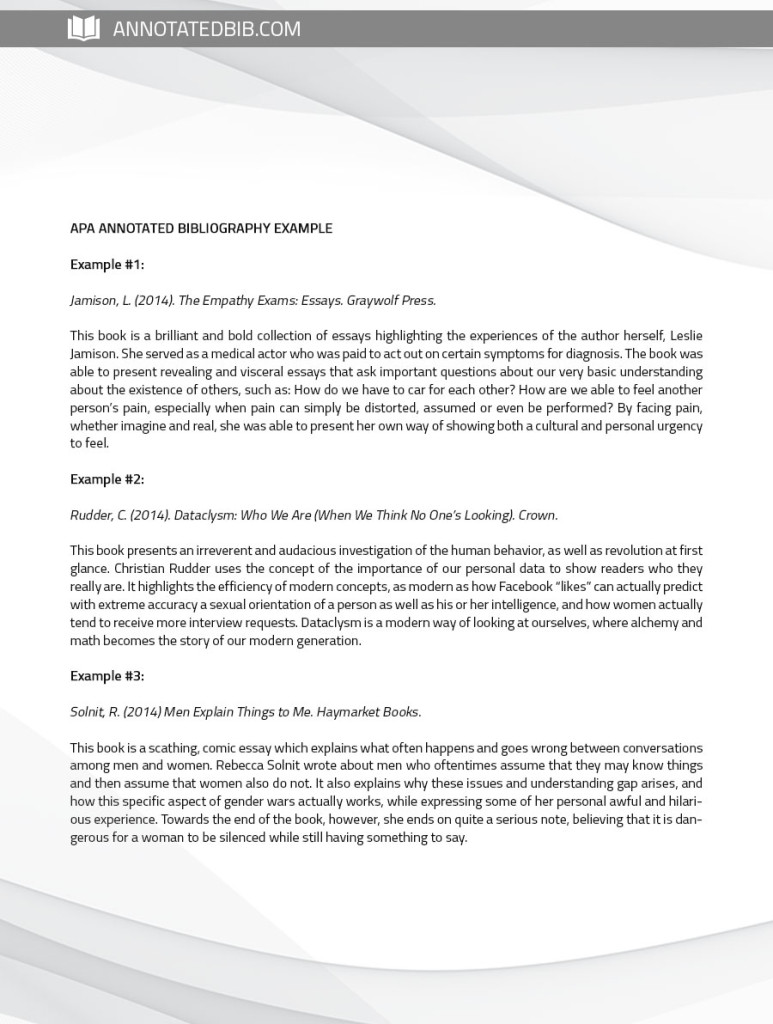 One of the toughest parts of the writing process which is commonly required is having to deal with sources and citing them, to create an effective and reliable paper you need to cite the information that you include, and for the reader to trust you and find you credible you must make sure that these citations are fully accurate and presented in the correct way, otherwise your bibliography will strongly detract from your efforts at credibility and professionalism. However the tricky thing is that bibliographies, especially the APA bibliography, are not all that easy to get perfect, there are a lot of requirements and details that must be known and worked out in the bibliography if you want to be sure you get it right, and many people struggle to get all these things accurate with their bibliography APA.
To be able to know what it looks like, consider the sample annotated bibliography APA below:
Li, W., & Chan, H. S. (2008). Clean Air in Urban China: The Case of Inter-agency Coordination in ChongQing's Blue Sky Program. City University of Hong Kong, Department of Public and Social Administration. Taiwan: Tunghai University.
Environmental concerns are increasingly becoming popular because of climate change. There are many instances where state-intervention is required to battle pollution and its negative effects. With a large country like China where the demand for institutional capacity is greater than the supply, how can it deal with pollution? The article suggests that China must employ inter-agency coordinating mechanisms to enforce environmental programs such as the Chongqing Blue Sky Program.
Marmot, M. (2005). Social Determinants of Health Inequalities. Lancet, 365(1), 1099-1104.
The article talks about gross inequalities with regards to health within and between different countries of the world. According to the author, the inequalities are attributed to several social factors such as poverty and social inequality. Since the health factors are also social, there are available remedies to it such as better social policies. Health is not just a medical concern but a social concern. For this research, the article is of great help because it provides the other side to the health problems in other parts of the world. It is possible that diseases attack equally but the attention given to battle such diseases are not equal, thereby increasing health risks and mortality rates for others.
Merritt, R. (1972). Divided Berlin: One Past and Three Futures. Journal of Peace Research, 9(4), 331-344.
In the studies of integration and disintegration of states, the case of Germany is one good example for the advantages, disadvantages, and implications. The article provides a historical as well as a political account of Berlin during the Cold War and what brought about the division. Although it is a material written before the fall of the Berlin Wall, it is an important source because as early as 1970s, political scientists already predicted several outcomes that would ensue.
Annotated Bibliography APA Format
As seen from the APA annotated bibliography sample in the preceding section, there are two components of an annotated bibliography—the citation and the annotation. The citation should follow the APA guidelines and the annotation must contain the main ideas of the source and your evaluation of the material. Usually, an annotated bibliography in APA would be 100-300 words but it could be more than that depending on how you evaluate each material.
Look at the APA annotated bibliography example once again. You can see that each reference is the same as in the reference list of your paper, all in accordance with the APA manual. The citation and annotation should be in double space. Lastly, the annotation should be written in paragraph form and not bullets. Use free annotated bibliography generator to help you with all these tasks.
The Problem of How to Create APA Bibliography Doesn't Have to Be a Problem with the Help of Our Service!
For many people the APA bibliography is just that, a problem, something which gets in the way and either requires them to devote a good deal of time to get perfect or that they simply overlook and suffer for in their credibility and professionalism. This doesn't have to be you, you can get the best possible APA bibliography and not spend any time on it yourself, that's what our professional APA bibliography help service is here to assist you to accomplish, so to make your life and the writing process all that much easier, enlist the help of our service today!

Professional Help on How to Cr
eate APA Bibliography
When citing using APA format, you should be able to comply with the rules and conventions established by the American Psychological Association. The best part of our professional bibliography APA service is that this allows you to easily create a bibliography page for any document in easy steps. You get to enjoy the best online citation wizard that will effectively guide you to the proper citation format for guaranteed 100% accuracy and build you correctly formatted references page with all sources cited in your paper.
We know how tough it can be to create APA bibliography, and we know that a lot of the time there isn't help available, or it's not reliable, and we also know that there are a lot of other things on your mind when writing a paper, and we're here to take the APA style bibliography off your shoulders and complete you a flawless one, or get you the help you need to create APA bibliography yourself. Whether you're going to create bibliography APA or an annotated bibliography APA, we've got professionals who specialize in anything to do with the APA bibliography and APA bibliography format, so you know where to go to get the best professional help!
Get started now and avail our APA annotated bibliography help for the real success!