If you are looking for an annotated bibliography Chicago style, you came to the right place. Instructors require written output all the time. They require students to write research papers, reflection papers, and thesis or dissertation for some. To be able to write these papers, references are necessary. Aside from the main paper, some instructors require an annotated bibliography, Chicago style or others. A Chicago annotated bibliography is commonly used in History discipline. However, a Chicago style annotated bibliography can be used in other disciplines so long as the instructor says so. Here are a few annotated bibliography examples Chicago.
Madsen, Axel. Coco Chanel: A Biography. New York: Bloomsbury Publishing, 2009.

It cannot be denied that Coco Chanel is one of the most influential women of the 20th century. From rags to riches as they say, Coco Chanel does not only prove that women can go ahead of their time but they can also remake history. This book is a great read because it provides information about Coco Chanel and her life. Not only does this book provide a detail account of the woman's life but also it shows how she remade her life story and what the real story is. In writing a historical account of what happened in the fashion industry during the 20th century, this book should be considered as it is a great source.

Schmidt, Johanna. Migrating Genders: Westernisation, Migration, and Samoan Fa'afafine. USA: Ashgate Publishing Company, 2010.

The Samoan culture is a very interesting culture to be studied with regards to gender because of the fa'afafine or transvestites. Since some societies treat transgender as a disorder there are some issues as to its status. In the Samoan culture, the fa'afafine are men who chose to live their lives as women because of a lot of factors. This book provides historical as well as sociological accounts to justify the continued existence of the fa'afafine in present day Samoa. This source is a great read for it is written by an author who specializes in Samoan culture as well as other Pacific cultures.

The New York Times. "Times Topics: Higgs Boson." The New York Times. February 10, 2013. (accessed March 5, 2013).

Since man has gained consciousness, he questioned everything—including the concept of where he came from and who he is. With the recent developments in the field of science, can man answer said questions through the Higgs boson or the so called "god particle"? To know about said particle, this source should be considered because aside from being informative, it is also an easy read because it is a news article. Although newspaper articles are not often used for references, this source would nevertheless give new ideas to start from.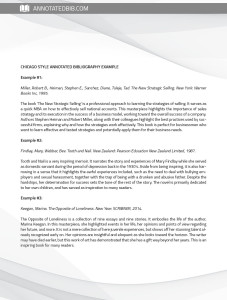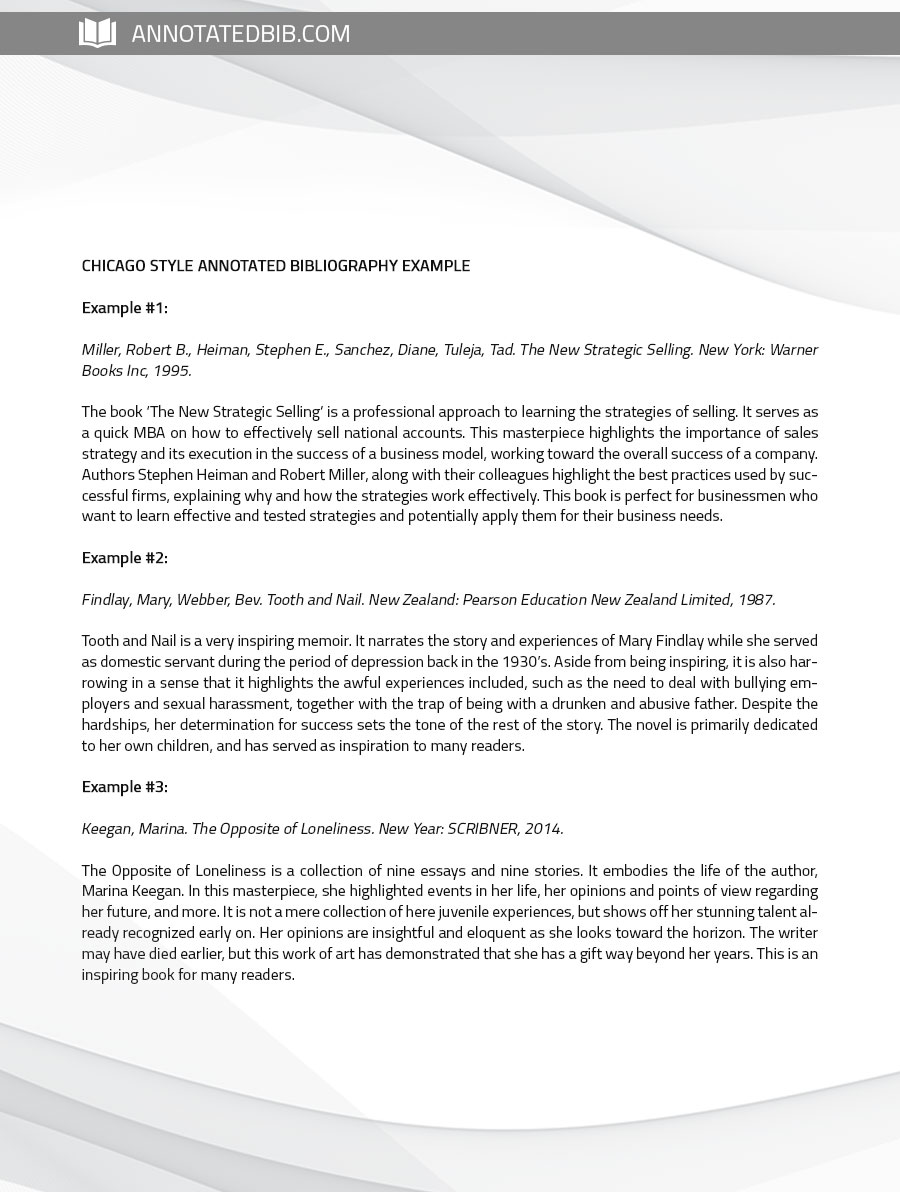 As you can see, Chicago style annotated bibliography format differs from that of the APA and MLA Style because each paragraph is indented but not in a hanging block. It is also double spaced and the reference list must have hanging indents. Writing an annotated bibliography Chicago can save you time for you can evaluate your source upon reading. Not only does a Chicago style annotated bibliography help comply with your requirements but it can also help you evaluate what sources are relevant or not.