We all know how much detail and attention should be paid to an annotated bibliography. It should be done in such a way that it is very clear for anyone reading it to understand it. An annotated bibliography can be defined as a list of citation to books, documents as well as articles. The citations are each followed by a brief descriptive and evaluative paragraph whose purpose is to inform any reader of the relevance, accuracy as well as the quality of sources cited.
Source (
Remove this source
)
It should, therefore, convey clear information to the reader on the importance of the sources mentioned. The list of citations to books, articles as well as documents should be done in a specific orderly manner. Since the bibliography is an organized manner of making notes, the brief descriptive and evaluative paragraph that follows should also conform to the same arrangement.
The easiest way to create a references list is to use APA annotation generator!
One perfect way of achieving desired organization is using AMA citation style in coming up with a bibliography where the writer is given the freedom to cite where another author's work has contributed to or supported their research or finding within their work. This particular format of making citations was made by the American Medical Association specifically for use in their publications. It is also used in the field of biological sciences, like a psychology annotated bibliography.
How to Write in AMA Citation Style on Your Own
When you embark on the process of writing the annotated bibliography there are important steps and rules of AMA citation style that you should follow. Our AMA bibliography generator could assist you to come up with an exemplary annotated bibliography that conforms to all the guidelines in this particular citation style.
Below are some of the AMA guidelines: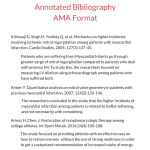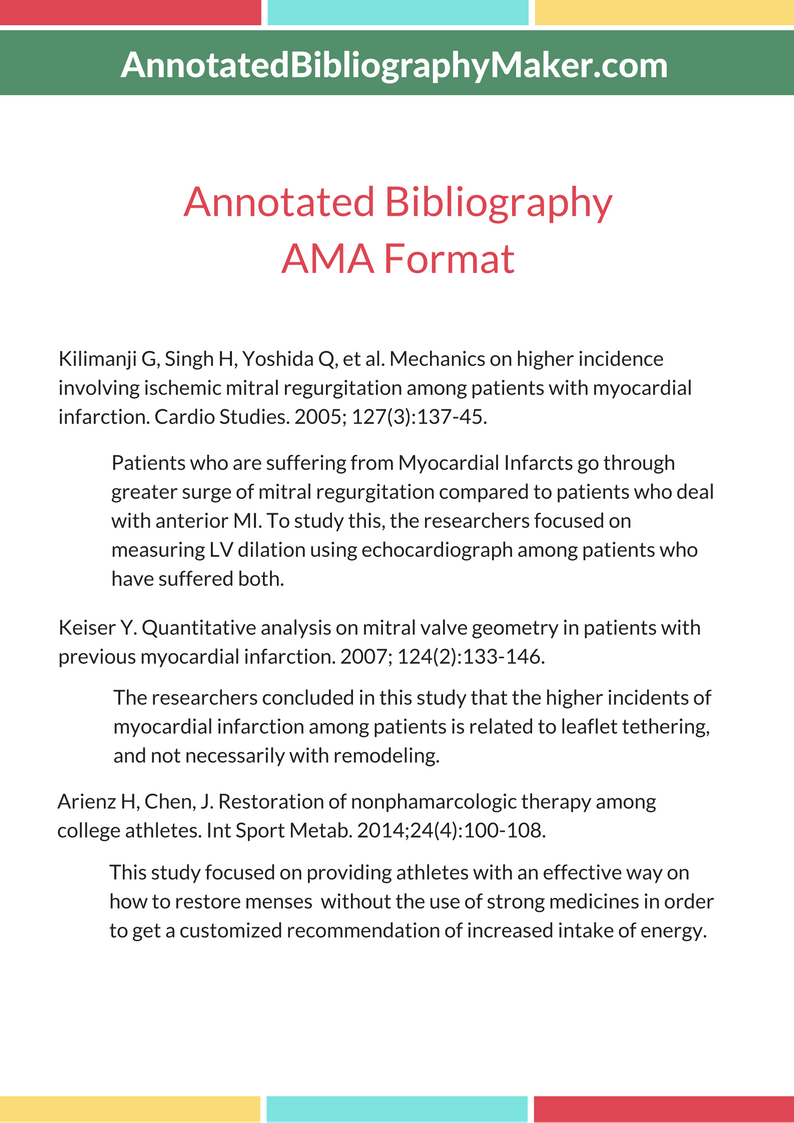 Appropriate numbering of the cited works. Make sure to number the cited works in order of how they appear in the text. They should also appear in the Reference list in numerical order.
While using Arabic superscript numerals, make sure to place them outside periods and commas as well as inside colons and semicolons.
While dealing with author's names, make sure to invert them and make use of initials for first and middle names only. There should be no periods between the initials.
Make sure to follow rules on capitalization. While writing down article titles, only the first word and proper nouns and abbreviations that are capitalized in normal cases will be capitalized.
Make sure to use the accepted Index Medicus abbreviations of journal names when dealing with content in the medical field.
Use of updated sources of citation. In order to come up with credible and dependable information, make sure that you make references to the most recent sources and is particularly necessary when dealing with particular areas of study such as sciences. This is attributed to the fact that in these fields there are regular changes which occur every now and then and new findings and theories need to be accounted for as you are writing the bibliography.
Evaluation and criticism. Make sure you evaluate the strengths/weaknesses in the bibliography, the arguments brought up and approach used. You should also discuss the validity of the source used as reference. Indicate whatever detail that entails the topic that has not been discussed. Compare/contrast particular work with another that you have cited.
Expert Advice on How to Write Annotated Bibliography in AMA Citation Style
Our experts have worked on all kind of bibliographies over almost every citation style and therefore they can provide insightful information that can help you as you write one on your own. According to them, while writing the bibliography, the brief evaluative and descriptive paragraph should be free of bias and should be as fair as possible with its comments. Our AMA bibliography generator is able to take care of this while coming up with your bibliography.
How We Can Help in Writing Your Annotated Bibliography in AMA Citation Style
You could use the services of our AMA bibliography maker to come up with a perfect bibliography. It is quite fast and efficient and it only takes a few seconds to generate the bibliography from scratch. Our AMA bibliography maker makes sure that the bibliography is flawless and free of any errors so that you do not have to proofread it again.
Top Notch AMA Bibliography Format Maker with Us!
Do not hesitate to solicit help if you are struggling with complying with the guidelines of AMA. Our service is an innovative approach towards using AMA bibliography in your research papers. As experts, we know it can be tough to properly format your papers especially if you have minimal knowledge on the guidelines of various formats. We have the best annotated bibliography helper and generators online that will surely save you time, money and effort. Get started now and avail professional help on incorporating AMA format bibliography into your papers!
Contact our proficient experts now for a flawless annotated bibliography written in AMA citation style!